Ghosts of Arrow Rock: The Curse of the Hollywood Heiress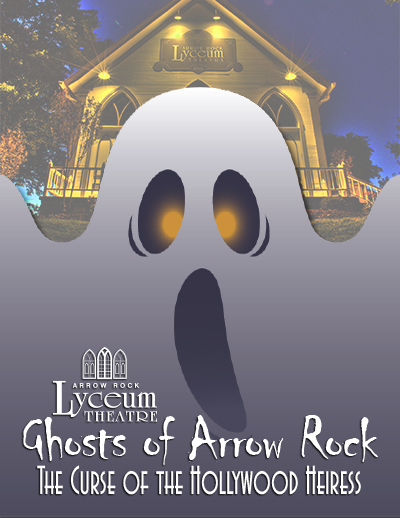 SOLD OUT!
When the Arrow Rock Lyceum Theatre casts a Hollywood diva to star in all of next season's shows, the theatre is turned upside down. Some people love the idea; some people hate it.  But all  agree on one thing: she must be welcomed! Dorma Nesmond has a storied past, and people who cross her do not escape unscathed. A lush party is planned in her honor, but as the evening unfolds, it becomes clear that bringing in Dorma is more than the theatre bargained for.  Will the shows go on? Will the Lyceum be able to handle this talent? Will everyone survive the weekend? Join us for an exciting interactive whodunit, where you spend the weekend in on the action, searching for the clues and becoming part of the mystery yourself! Make sure to pack comfortable shoes, as we will be searching all of Arrow Rock for clues.
Check-in on Friday afternoon from 4pm to 7pm and get ready for an adventure that is an unconventionally fun 48 hours until its unbelievable conclusion at Sunday brunch. Reservations are required and space and housing is limited and will be based on a first come first serve basis. Rooms are available for one or a group. Secure your reservation in our books now… before they disappear!
SOLD OUT!
All-inclusive ticket pricing: $400.00 for single occupancy and $350.00 per person for double occupancy. For more information contact us at events@lyceumtheatre.org or call the box office at 660-837-3311.  Reservations not available online.
Rating:
PG 13
PERFORMANCE DATES:
Friday, 10/27/17 - 4:30 pm