Hollyn Gayle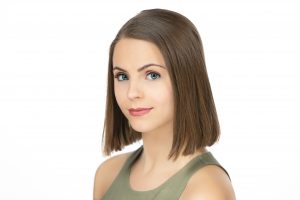 Hollyn Gayle is delighted to be making her debut at the Arrow Rock Lyceum Theatre! She
holds a BFA in Musical Theatre from Western Illinois University. Regional credits include:
Violet (Violet), Hello, Dolly! (Minnie Fay), As You Like It (Celia) at Ozark Actors Theatre,
Church Basement Ladies (Beverly) at the Playhouse @ Westport Plaza, and The Little
Mermaid (Ariel u/s) at Variety Theatre. This summer she will be traveling to China in the
international tour of The Wizard of Oz (Dorothy u/s). Love to her husband, Alex, and her
family/friends. Psalm 30:11-12. @hollyngayle. HollynGayle.com.