Goodnight Moon – The Musical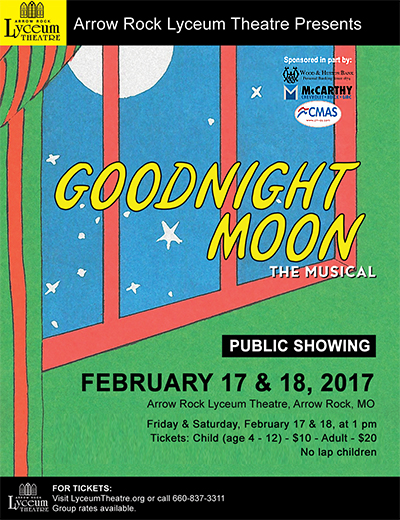 Margaret Wise Brown's classic story Goodnight Moon has been loved and passed down through the generations for more than 60 years. The bunny in the blue and white striped PJs wants to delay going to bed for as long as possible, so he says goodnight to every object in his room – and beyond. In this new musical adaptation by Chad Henry, the objects and characters jump off the pages, and the bunny's bedroom comes to life. Suddenly, the cat and the fiddle, red balloon, clocks and socks, kittens and mittens, and the cow jumping over the moon are just a few of the many that spring into action. Bedtime has never been so entertaining!
Two public performances: Friday, February 17 and Saturday, February 18 at 1 pm.

Tickets ON SALE NOW!
Tickets: Child (Age 4 – 12) – $10, Adult – $20.
No lap children.

Directed by Shawn Knight. Script, Music and Lyrics by Chad Henry. Additional Musical Arrangements by Mark Rabe. Adapted from the Book by Margaret Wise Brown. Illustrated by Clement Hurd.
Rating:
G
PERFORMANCE DATES:
Friday, 02/17/17 - 1:00 pm
Saturday, 02/18/17 - 1:00 pm