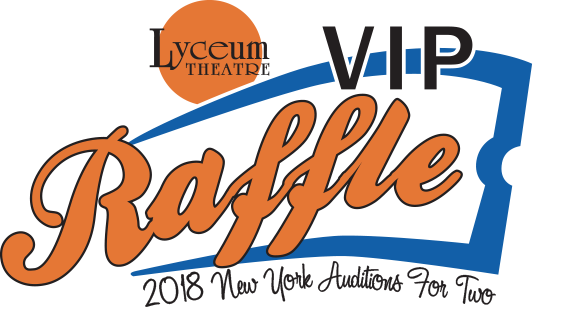 Enter for a chance to win a trip for two to New York City to attend the exclusive
2018 Lyceum Theatre auditions! This is a once in a lifetime chance to experience
what it's like to watch Quin Gresham, Producing Artistic Director audition actors for
the upcoming 2018 Productions. This opportunity has never been offered before.
AUDITION PACKAGE INCLUDES:
● Round Trip Air Fare For Two To New York From MCI or STL
● Two Night Stay At A Times Square Hotel
● Be An Exclusive Spectator For Lyceum New York Auditions
Winter 2018.
Raffle Ticket – $20.00 = 1 chance,
$50.00 = 3 chances, $100.00 = 8 chances
Drawing will be held December 23, 2017
●  Winner need not be present to win
●  All proceeds to benefit The Lyceum Theatre, 501(c)3
Tickets are available for sale in our lobby during each show throughout our 2017 Season.
Employees of the Lyceum, the Lyceum Board of Directors and members of the immediate family
of any such persons are not eligible to participate. Winning ticket has no cash value.
DIRECTORY