The Arrow Rock Lyceum Theatre Announces an Exciting Change to Their New Year's Eve Celebration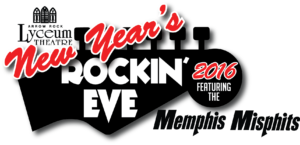 ARROW ROCK, MO, September 16, 2017 – The Arrow Rock Lyceum Theatre is announcing a change in its 2016 New Year's Eve Celebration plans. The Lyceum is excited to introduce a New Year's Rockin' Eve 2016 celebration featuring the award-winning members of the Memphis Misphits! With a range of blues, boogie, and soul, The Memphis Misphits will rock in the new year with a four hour energized performance throughout the evening. "The group is comprised of internationally recognized talent from all over the country, as well as ties to many well-known bands including The Fabulous Thunderbirds. These guys are sure to put on an exciting show that will keep everyone dancing all night," said Kevin Magee, Lyceum Director of Marketing. Previously announced headliner Matt Goss will not appear due to circumstances beyond the Lyceum Theatre's control. Said Magee, "We needed to make alternative plans, and we are absolutely thrilled by the extremely talented, award-winning musicians who will make this such a special, unforgettable night!"
The Memphis Misphits features SUGARAY RAYFORD as the lead singer, KID RAMOS on guitar, JIMI BOTT on drums, WILLIE J. CAMPBELL plays bass guitar, ANTHONY GERACI plays piano and organ and ALLAN WALKER is on saxaphone.
When SUGARAY RAYFORD belts out a song, you not only hear it, you feel it. The excitement in the room is palpable when he takes the stage; he is a superb vocalist and entertainer. At 6'5", his dynamic voice is large just like the man. With his old school vocal style, echoes of Muddy Waters, Otis Redding and Teddy Pendergrass can be heard, and his fluid dance steps will remind you of the Legendary James Brown. Sugaray is currently nominated for 4 BMA's for the 2016 Blues Music Awards. The award nominations are for BB King Entertainer of the Year, Contemporary Blues Male Vocalist, Contemporary Blues Album (Southside) & Song of the Year (Southside of Town). Sugaray was also nominated for the 2015 Canadian Maple Blues Awards for BB King International Artist of the Year. Sugaray also won a 2016 Cascade Blues Award for National Recording / "Southside" album.
KID RAMOS is an American electric blues and blues rock guitarist, singer and songwriter.  Ramos has released four solo albums since 1995 on Black Top and Evidence Records. He joined the James Harman's band in 1980 and stayed playing his guitar until 1988, when he briefly helped out with Roomful of Blues. In 1994, Ramos joined forces with Lynwood Slim to form the Big Rhythm Combo. Ramos' debut solo album, Two Hands One Heart, was released the following year. Ramos joined The Fabulous Thunderbirds in 1993, following an invitation from their singer, Kim Wilson. As well as regularly recording and appearing with them up to 2002, Ramos also continued to release his own albums, the most recent being Greasy Kid Stuff (2001). Ramos appeared at the 2005 Edmonton's Labatt Blues Festival, playing along with the Mannish Boys. He also formed the roots quartet, Los Fabulocos, who released their debut album in 2008. In 2009, Ramos backed Bobby Jones at the Notodden Blues Festival. 1999, 2000, 2001 WC Handy nominated, best blues record of the year, best blues guitarist, best song winner 2001, and recipient of the 2014 OC music Award Lifetime achievement award.
JIMI BOTT was the 2015 Blues Music Awards blues drummer of the year. In 2014 he was an NW Cascade Blues Association inductee into the blues music hall of fame. After being named drummer of the year 12 times the award is now call the "Jimi Bott Blues Drummer of the Year". He has performed on over 90 released Albums and played with many of the great blues men of the past and present most notably; The Fabulous Thunderbirds, The Mannish Boys, Rod Piazza, Albert Collins, Earl King, Snooky Pryor, Luther Tucker and the list goes on. He is known worldwide as one of the best blues drummers of any generation.
WILLIE J. CAMPBELL was born in Motown and influenced by American Music. Early on Willie spent many nights hanging out at the Golden Bear, listening to the likes of BB King, Freddy King, Albert King, Muddy Waters, Johnny Winter, etc. Willie's first band, Southern Select Blues Band, was comprised of his brother Scott, Dave Lee Bartel, and Tom Lai. After a short run they formed a Rockabilly band called The Red Devils. That band would later morph into The Red Devils featuring Lester Butler, Paul Size, Bill Bateman, and the Bartel brothers. Willie spent the next 10 years with The James Harman Band. "James was an incredible mentor, he notes." Willie honed his skills playing alongside an all-star lineup which included: Hollywood Fats, Gene Taylor, Stephen Hodges, and Kid Ramos. Willie was fortunate to back up or share the stage with a "Who's Who" in Blues, Soul, Rock, and Punk music. Following the James Harman Band, was a six year run with The Fabulous Thunderbirds. This was another great band that included Kim Wilson, Gene Taylor, Kid Ramos, and Jimi Bott. Willie has been with The Mannish Boys for the last seven years. He has played alongside Finis Tasby, Randy Chortkoff, Bobby Jones, Sugaray Rayford, Jimi Bott, Kid Ramos, Kirk Eli Fletcher, and Franck Goldwasser. Willie has been honored several times by the Blues Foundation with nominations for instrumentalist, band, and record of the year. The Blues Music Awards have been a mainstay in recognizing a slice of Americana.
ANTHONY GERACI has a long history in the American Blues Community. He is an original member of Sugar Ray and the Bluetones and Ronnie Earl and the Broadcasters. He has toured with Otis Rush, Big Mama Thorton, Big Joe Turner, J.B. Hutto, Big Walter Horton, Chuck Berry and Jimmy Rodgers to name just a few. He has backed up blues legends Muddy Waters, B.B. King, Buddy Guy, as well as rock legends such as Van Morrison, J. Geils, Peter Wolf, Steve Miller and has been a "Blues Brother" with Dan Akroyd, Jim Belushi, and John Goodman. Anthony was a member of the original House Of Blues (Cambridge, MA) Blue Monday Band where he also backed many touring blues musicians including Little Milton, Jr. Wells and a then unknown Keb' Mo. His latest recording Fifty Shades Of Blue (Delta Groove) earned three 2016 Blues Music Awards nominations including Album of the Year, Traditional Album of the Year, Song of the Year for the title track as well as an individual nomination for the prestigious Pinetop Perkins Piano Player of the Year from the Blues Music Awards/Blues Foundation Memphis, TN. Grammy nomination for Super Harps I (Telarc) that features Charlie Musselwhite, James Cotton, Billy Branch and Sugar Ray Norcia. Anthony has also been featured on more than 40 recordings. He has recorded with Blues Pioneers Big Walter Horton, John Brim, and Big Jack Johnson. Modern Blues Artists he has recorded with include Debbie Davies, Kenny Neal, Sugaray Rayford, Duke Robillard, Ronnie Earl and Sugar Ray and the Bluetones. Anthony has an undergraduate degree from the Berklee College of Music in Boston, MA, and Masters of Arts Degree from Skidmore College Saratoga Springs, NY with a concentration in Jazz studies.
ALLAN WALKER is a jazz saxophonist with deep roots in R&B and a resume that includes tours and recordings with some of the biggest names in the music business. By the time he was fifteen, he was good enough to start accompanying artists from Motown, Stax, King, and other major labels at the time who needed a pick-up band when they played between D.C. and Miami.  But his career started to really take off at the age of sixteen when he began recording and touring nationally and internationally with acts like The Temptations, The Four Tops, Marvin Gaye, The Coasters, The Drifters, Little Anthony and the Imperials, and countless others. In the late 1960's, already a successful and in-demand player, he started to become seriously interested in jazz.  He was inspired by the likes of Clyde "Fats" Wright, an excellent pianist, and Don Pullen, the amazing pianist/organist that Allan got to play with whenever he was in town. He was privileged to perform at one of the last dinners honoring Richard Pryor at for the first Mark Twain Awards Ceremony at Lincoln Center, which included luminaries like Robin Williams, Chris Kristofferson, Danny Glover, Morgan Freeman, Chris Tucker and Ruth Brown. He attended a private fund raising  party at Will and Jaden Smith's house for President Obama (where he got a chance to kiss the first lady), and started  working with some major blues players, like Roy Gains, Sugaray Rayford, for whom he arranged several horn parts on his Blind Alley CD, and many others. Ralph Carter, the music director for Eddie Money and Sugaray, offered him the opportunity to record and arrange horn parts on many songs for some Jane Fonda videos, which led him to performing live on the "Today Show" with Fonda. Since then, he has played on many CD's as a sideman, horn arranger, and soloist and released his own CD project in 2014.
Tickets are $175.00 per person and $225.00 for VIP seating (1st two rows.) Admission includes: A live 4-hour Rockin' Eve performance through midnight, heavy hors d'oeuvres before and after the show, 2 drinks plus a champagne toast at midnight, party favors and other surprises and excitement! For tickets: www.lyceumtheatre.org, (660) 837-3311 x1, or in person at the Lyceum's box office at 114 High Street, Arrow Rock, MO 65320.
The event is sponsored in part by Wood & Huston Bank.
The Arrow Rock Lyceum Theatre is a non-profit 501(c)(3), professional theatre located in the unique village of Arrow Rock, Missouri, a 19th century National Historic Landmark. The Lyceum has been entertaining audiences in the heart of Missouri for 56 years producing a variety of musicals, dramas and comedies. Each year, this 408 seat theatre attracts professional talent from across the country to produce an eight show season (June-December). Performers, designers, directors, and technicians take residence in Arrow Rock for five months to bring its patrons Broadway caliber productions throughout the summer.
The Lyceum Theatre is affiliated with Actors' Equity Association, the Union for Professional Actors and Stage Managers in the United States, and the Society of Stage Directors and Choreographers.
# # #