Quin Gresham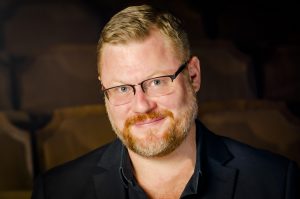 2019 marks Mr. Gresham's fifteenth season in Arrow Rock. Earlier this season, he directed Rodgers and Hammerstein's Cinderella. During the 2018 season, Mr. Gresham directed the 5th annual production of Charles Dickens' A Christmas Carol, which he also adapted. Past directing credits at The Lyceum include The Hound of the Baskervilles, Stand By Your Man: The Tammy Wynette Story, Around the World in 80 Days, Cotton Patch Gospel, Love Letters (starring Tab Hunter and Joyce DeWitt), The Wizard of Oz, The Music Man, Camelot, To Kill A Mockingbird, Run For Your Wife, The Fantasticks, The Producers, Hairspray, Sleuth, West Side Story, Little Women the Musical, Into the Woods, Misery, 1776, Tuesdays with Morrie, Dracula, Peter Pan and Driving Miss Daisy.
Also an actor, Quin has been a frequent Company member, having appeared in over 50 productions at the Lyceum since 1999. Quin's favorites include James Leeds in Children of a Lesser God, Felix Ungar in Oscar and Felix, A New Look at the Odd Couple, Bud Frump in How to Succeed in Business Without Really Trying, Algernon in The Importance of Being Earnest, Tom in The Glass Menagerie, Arles etc. in Greater Tuna, A Tuna Christmas, Red, White and Tuna, and Tuna Does Vegas, David in The Foreigner, Matthew in Cotton Patch Gospel, Max in Lend Me a Tenor, Sydney in God's Favorite, Ernst in Cabaret, the Tinman in The Wizard of Oz, Sam in Shenandoah, and Bernard in Death of a Salesman.
Quin's production of The 25th Annual Putnam County Spelling Bee at his alma mater, Webster University, was named the 2011 Best Musical in St. Louis by The Riverfront Times. Quin's work has also been seen at the Repertory Theatre of St. Louis, Totem Pole Playhouse, The Riverside Theatre, The National Arts Club, Stephens College, Providence College, Greenbrier Valley Theatre, Rocky Mountain Repertory Theatre and The Texas Shakespeare Festival.
He currently serves on the Board of Directors for L.E.A.D. Institute, a non-profit organization committed to providing services to deaf and hard of hearing individuals in the state of Missouri. Like his two predecessors, Quin is a proud graduate of the Conservatory of Theatre Arts at Webster University.