Quin Gresham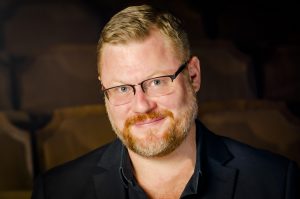 2022 marks Mr. Gresham's eighteenth season in Arrow Rock. Earlier this season he directed Murder on the Orient Express. In previous seasons, Mr. Gresham has directed Rodgers & Hammerstein's Cinderella, A Christmas Carol, The Hound of the Baskervilles, Stand By Your Man: The Tammy Wynette Story, Around the World in 80 Days, Cotton Patch Gospel, Love Letters (starring Tab Hunter and Joyce DeWitt), The Wizard of Oz, The Music Man, Camelot, To Kill A Mockingbird, Run For Your Wife, The Fantasticks, The Producers, Hairspray, Sleuth, West Side Story, Little Women the Musical, Into the Woods, Misery, 1776, Tuesdays with Morrie, Dracula, Peter Pan and Driving Miss Daisy.
He is the recipient of the Missouri Arts Award for Leadership in the Arts. Quin's work has also been seen at The Repertory Theatre of St. Louis, Totem Pole Playhouse, The Riverside Theatre, The National Arts Club, Stephens College, Providence College, Rocky Mountain Repertory Theatre and The Texas Shakespeare Festival. In 2011, his production of The 25th Annual Putnam County Spelling Bee at his alma mater, Webster University, was named the 2011 Best Musical in St. Louis by The Riverfront Times.
He currently serves on the Board of Directors for L.E.A.D. Institute, a non-profit organization committed to providing services to deaf and hard of hearing individuals in the state of Missouri. Like his two predecessors, Quin is a proud graduate of the Conservatory of Theatre Arts at Webster University.