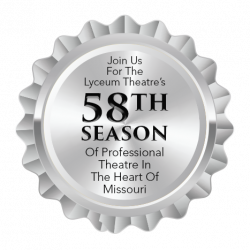 August 18 – August 26

A Lyceum Premiere! This play is a reinterpretation of the life story of Florence Foster Jenkins, a wealthy socialite and a real life historical figure who became famous for trying to be an opera star and failing badly. She is completely tone deaf, but she is convinced that she can sing. Using her own droves of money, she hires an accompanist, Cosmé McMoon, the narrator of the play.  As the play continues, the audience enters Florence's world completely, finding there the beauty she'd heard in her head all along.

Sawyer Brown
Live in Concert
"The Rolling Stones of Country Music"
Sawyer Brown have released 23 albums with 3 gold albums. More than 50 of their singles have entered the Billboard Hot Country Songs charts with three No. 1 singles including their signature song "Some Girls Do" and "Thank God for You". They received six Vocal Band of The Year awards and three Country Music Awards. The band bounds onto the stage night after night, delivering its own unique brand of high-energy entertainment
Ken Ludwig's
A Comedy of Tenors
September 1 – 9
One hotel suite, four tenors, two wives, three girlfriends, and a soccer stadium filled with screaming fans. What could possibly go wrong?
Honky Tonk Angels
September 19 – 30
The creator of Always…Patsy Cline combines over 30 classic country tunes with a hilarious story about three gutsy gals who are determined to better their lives and follow their dreams to Nashville.
A trip to Arrow Rock isn't complete without enjoying the wonderful restaurants, homey Bed and Breakfasts, and charming shops.
CASTING ANNOUNCED
FOR THE LYCEUM PREMIERE OF
SOUVENIR – A FANTASIA
ON THE LIFE OF
FLORENCE FOSTER JENKINS
2018 SEASON
LYCEUM TICKETS
Call our Box Office at 660-837-3311 to find out about the many ways you can enjoy a Lyceum production.
2018 SEASON SPONSORS
The Lyceum applauds our 2018 Season Sponsors.
Make sure to support our gracious sponsors and visit the links below.