The 5th Anniversary. Enjoy the return of a holiday tradition in Arrow Rock, now in its fifth year! The Lyceum is pleased to bring to life the familiar story of a seemingly heartless miser given one last chance at redemption by four visiting ghosts. On Christmas Eve Ebenezer Scrooge undergoes an incredible transformation as he is guided through his past, present and the possibilities of his future. A Christmas Carol's timeless and heartwarming message, dazzling scenery and costumes, and delightful holiday music will get you and your entire family in the Christmas spirit. A PLAY WITH MUSIC, G
Artrageous
March, 15, 2019
7:30 PM
Imagine an artist creating a masterpiece before your eyes in mere moments. With a palette of captivating vocals, intricate choreography and thrilling audience interaction, Artrageous offers a multi-sensory expedition, packed with wild inspiration, creativity and fun! The Artrageous troupe of painters, musicians, singers and dancers pays tribute to a variety of art forms, pop icons and musical genres, culminating in a gallery of fabulous finished paintings. The result?  A one-of-a-kind, interactive, crossover experience. Visit artrageousexperience.com.

Seussical
April, 13, 2019
11:00 AM
Seussical – An adaptation of the Broadway musical for young audiences, brings together Dr Seuss's much loved books, Horton Hears a Who!, Horton Hatches the Egg, Gertrude McFuzz, and more.
Seussical tells the story of Horton the Elephant's quest to save the people of Whoville, who live on a tiny speck of dust. The Cat in the Hat narrates the story of Horton and the other characters in the Jungle of Nool.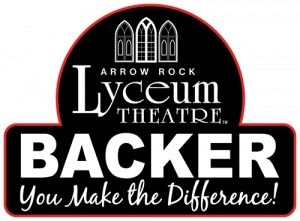 BECOME A LYCEUM BACKER TODAY!
The 2018 Backers Campaign is running from September, 2018 through May, 2019.
Charles Dickens'
A Christmas Carol
December 12 – 23

The 5th Anniversary. Enjoy the return of a holiday tradition in Arrow Rock, now in its fifth year! The Lyceum is pleased to bring to life the familiar story of a seemingly heartless miser given one last chance at redemption by four visiting ghosts.
A trip to Arrow Rock isn't complete without enjoying the wonderful restaurants, homey Bed and Breakfasts, and charming shops.
2018 SEASON
LYCEUM TICKETS
Call our Box Office at 660-837-3311 to find out about the many ways you can enjoy a Lyceum production.
Sawyer Brown
Live in Concert on the Lyceum Stage on October 4, 2018!

View photos from the exciting night!
2018 Murder Mystery Weekend
Homicidally Ever After
View photos from the fun-filled weekend!
2018 SEASON SPONSORS
The Lyceum applauds our 2018 Season Sponsors.
Make sure to support our gracious sponsors and visit the links below.