Gift Cards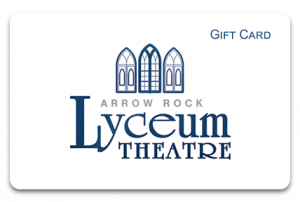 Purchase our gift cards online and have them sent anywhere!
Whether it's for a birthday, anniversary, business associate or holiday stocking suffer, the gift of live theatre is always the perfect gift.
Our gift cards are available in many dollar amounts, and you have the option of a physical gift card or an E-Card. You can even recharge your gift card at anytime.
Gift cards are not valid to use at concessions.
Please review our Purchasing, Policies, and Hours prior to ordering a gift card.
Questions? Call 660-837-3311
Box Office hours are Monday – Friday, 10:00 AM – 4:00 PM.