The Lyceum Theatre's 2018 Nashville Trip



You cannot miss the Lyceum's 2018 trip to Nashville from May 11 – 14. Click on play to view all the planned fun-filled activities.This is not just another trip… It's an experience!
To make your reservations call 660-815-4609 or email events@lyceumtheatre.org!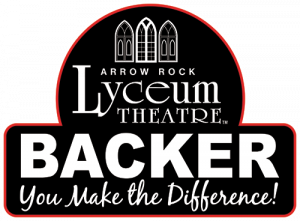 BECOME A LYCEUM BACKER TODAY!
The 2017 Backers Campaign is running from September, 2017 through May, 2018.
A trip to Arrow Rock isn't complete without enjoying the wonderful restaurants, homey Bed and Breakfasts, and charming shops.
THE LYCEUM'S 2018
THEATRE FOR YOUNG AUDIENCES PRODUCTION,
A YEAR WITH FROG & TOAD,
WILL HAVE ONE PUBLIC
PERFORMANCE ON APRIL 14
2018 SEASON
LYCEUM TICKETS
Call our Box Office at 660-837-3311 to find out about the many ways you can enjoy a Lyceum production.
2018 SEASON SPONSORS
The Lyceum applauds our 2018 Season Sponsors.
Make sure to support our gracious sponsors and visit the links below.