JOIN OUR
SUBSCRIBER FAMILY
TODAY!
Season Subscriptions are now available
for our 60th season and our shows are
already filling up fast! Single ticket sales began Monday February 3
Sawyer Brown
Sawyer Brown has been described as "the Rolling Stones of Country Music".  They have released twenty-three albums with 3 gold albums reaching over one-half million copies sold.  More than fifty of their singles have entered Billboard Hot Country Songs charts, including three No. 1 singles including their signature song "Some Girls Do" and "Thank God for You".  Sawyer Brown received a Horizon Award from the Country Music Association, Vocal Group of the Year award in 1997 from the Academy of Country Music, six Vocal Band of The Year awards from TNN Music City News Country Awards, and three Country Music Awards.  The band bounds onto the stage night after night, delivering its own unique brand of high-energy entertainment, and remains a perennial favorite at fairs, festivals, theatres, and casinos. Sawyer Brown has earned its place as one of the premier live acts in music.
Tickets start at $75.
VIP tickets include admission to an exclusive cocktail party. 

.
.
.
.

LIMITED AVAILABILITY 
CALL FOR INFORMATION TODAY!
WE'RE GOING TO LONDON!
NOVEMBER 2020
Join us for this incredible travel opportunity with the Lyceum Trippers as we explore London next fall (The food! The culture! And of course: the theatre)! We've organized a truly spectacular experience for you in this cultural center.
In order to offer our patrons the best seats and deals, we secured only a few spots for this once-in-a-lifetime tour, so call today for information and to sign up.
For more information/to reserve your place:
Call Rebecca Early today: 660-815-7209.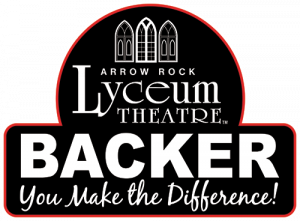 BECOME A LYCEUM BACKER TODAY!
The 2019 Backers Campaign is running from July 2019 through April 2020.
No matter what the occasion, Lyceum gift cards are perfect for those who love the theatre experience. The best part? Our new gift card system makes it possible to recharge your card online again and again, so there's no need to waste physical cards.  (*Our gift cards work for ticket purchases only – not concessions items)
Click to learn more and order today!

2020 SEASON
LYCEUM TICKETS
Call our Box Office at 660-837-3311 x1 to find out about the many ways you can enjoy a Lyceum production.
2020 SEASON SPONSORS
The Lyceum applauds our 2020 Season Sponsors.
Make sure to support our gracious sponsors and visit the links below.