9 to 5
July 18 – July 28
A Lyceum Premiere! Based on the 1980 hit movie, 9 to 5 sets to music the hilarious and outrageous story of friendship and revenge in the 1970s Rolodex era. Pushed to the boiling point, three female coworkers concoct a plan to get even with the sexist, egotistical, lying, hypocritical bigot they call their boss.

RATED PG
Tickets on sale now.
Laughs at the Lyceum Comedy Nights – Ladies of Laughter
July 25



Join us for the second evening of NEW summer comedy nights! We've got another hilarious night with the Ladies of Laughter Funny & Fabulous Tour featuring 2 more comedians.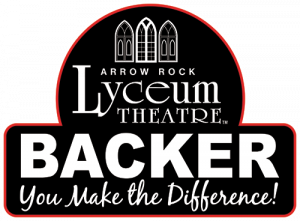 BECOME A LYCEUM BACKER TODAY!
The 2018 Backers Campaign is running from September, 2018 through May, 2019.
Murder for Two
Aug 3 – Aug 11

A Lyceum Premiere! Murder for Two is the perfect blend of music, mayhem and murder as two performers put the laughter in manslaughter as they play 13 roles—not to mention the piano. You won't want to miss this winking homage to old-fashioned murder mysteries and killer musical comedy! RATED PG
Fully Committed
Aug 17 – Aug 25

A Lyceum Premiere! This devastatingly funny one man show follows a day in the life of Sam Peliczowski, an out-of-work actor who mans the red-hot reservation line at Manhattan's number-one restaurant. Coercion, threats, bribes, histrionics—a cast of desperate callers will stop at nothing in their zeal to land a prime reservation, or the right table. RATED PG-13
A trip to Arrow Rock isn't complete without enjoying the wonderful restaurants, homey Bed and Breakfasts, and charming shops.
2019 SEASON
LYCEUM TICKETS
Call our Box Office at 660-837-3311 to find out about the many ways you can enjoy a Lyceum production.
Sawyer Brown
Live in Concert on the Lyceum Stage on October 4, 2018!

View photos from the exciting night!
2018 Murder Mystery Weekend
Homicidally Ever After
View photos from the fun-filled weekend!
2019 SEASON SPONSORS
The Lyceum applauds our 2019 Season Sponsors.
Make sure to support our gracious sponsors and visit the links below.