ANNOUNCEMENTS
POSTPONED: Disney's The Little Mermaid, Singin' in the Rain, and Sister Act
We are postponing our first three shows to corresponding dates in the 2021 season, and anticipate opening our 2020 season in August with Murder on the Orient Express. See our NEWS and ticketing pages for additional information.
OUR BOX OFFICE HOURS ARE CURRENTLY 10 A.M. TO 2 P.M. MON-FRI BY PHONE ONLY: 660-837-3311 x1. OUR LOBBY IS CLOSED TO IN-PERSON VISITS UNTIL FURTHER NOTICE. 
ADMINISTRATIVE OFFICES ARE CLOSED UNTIL FURTHER NOTICE: SEE "NEWS" PAGE FOR MORE INFORMATION
.
.
.
.
.
.
.
.
.
.
.
POSTPONED TO THE 2021 SEASON:
.
.
.
.
.
.
.
.
.
A gift card purchase remains the best way to support The Lyceum and to give yourself or someone you love the chance to enjoy our live professional performances when things get better! The best part? Our new gift card system makes it possible to recharge your card online again and again, so there's no need to waste physical cards.  (*Our gift cards work for ticket purchases only – not concessions items)
Click to learn more and order today!

JOIN OUR
SUBSCRIBER FAMILY
TODAY!
Season Subscriptions are now available
for our 60th season and our shows are
already filling up fast! 
.
.
.

NEW DATES ADDED: NOV 9-16
LIMITED AVAILABILITY 
CALL FOR INFORMATION TODAY!
WE'RE GOING TO LONDON!
NOVEMBER 2020
Join us for this incredible travel opportunity with the Lyceum Trippers as we explore London next fall (The food! The culture! And of course: the theatre)! We've organized a truly spectacular experience for you in this cultural center.
In order to offer our patrons the best seats and deals, we secured only a few spots for this once-in-a-lifetime tour, so call today for information and to sign up.
For more information/to reserve your place:
Call Rebecca Early today: 660-815-7209.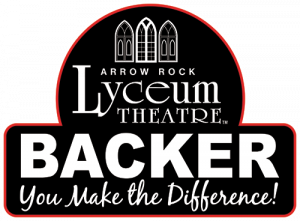 BECOME A LYCEUM BACKER TODAY!
The 2019 Backers Campaign is running from July 2019 through April 2020.
2020 SEASON
LYCEUM TICKETS
Call our Box Office at 660-837-3311 x1 to find out about the many ways you can enjoy a Lyceum production.
2020 SEASON SPONSORS
The Lyceum applauds our 2020 Season Sponsors.
Make sure to support our gracious sponsors and visit the links below.